Helio Display Materials expands into further R&D lab space at the Wood Centre for Innovation
June 13th 2023
Post created by The Oxford Trust to give insight into the science and tech businesses they support in their innovation centres: the Oxford Centre for Innovation and the Wood Centre for Innovation.
Helio Display Materials has expanded its R&D laboratory space at The Oxford Trust's Wood Centre for Innovation in Headington to accommodate rapid company growth.
Helio Display Materials was founded by Professor Henry Snaith FRS, also founder of the successful Oxford PV, and Professor Sir Richard Friend FRS FREng, both of whom are leaders in perovskite technology. It is the first joint University of Oxford and University of Cambridge spinout.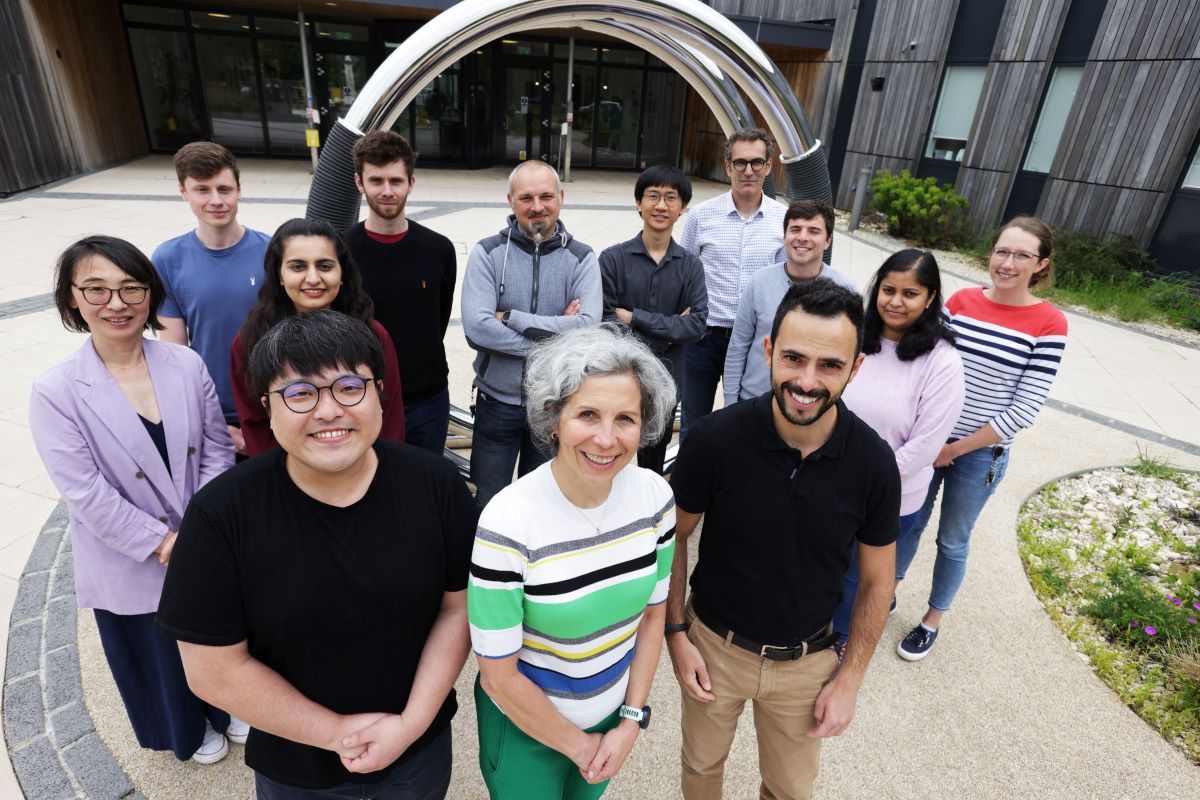 Helio Display Materials uses innovations based on the outstanding properties of metal halide perovskites to create materials for a new generation of brighter, more colourful displays that use significantly less energy.
The application of the technology for LCD, OLED and µLED displays enables increased brightness, colour range and power efficiencies that were previously thought unachievable at industrial scale.
In March 2022, the company moved into the Wood Centre for Innovation with seven people to occupy 2,720 sq ft (250 sq m). Over the last year, the team has expanded to 17 people, which has allowed them to move into the next phase of product development. To facilitate their growth, Bulb Interiors, the interior laboratory fit-out specialist, has converted an office suite that totals 546 sq ft into further lab space which has seen Helio occupy a total of 3,266 sq ft (303 sq m).
Simon Jones, chief executive officer, Helio Display Materials said: "Taking office and lab space at The Oxford Trust's Wood Centre for Innovation has allowed us to expand our team and grow organically. It is the perfect home for Helio and great to be part of an active community of start-ups located in the Centre."
Helio Display Materials staff in their new lab space
Helio Display Materials is one of eight companies with R&D lab and office space at the Wood Centre for Innovation, including Samsara Therapeutics, DJS Antibodies, Human Centric DD, Lumai, RedShift Bio and PicturaBio.
Steve Burgess, The Oxford Trust's chief executive officer, said: "With the Trust's significant investment in R&D lab provision, we have been able to give early-stage companies the opportunities to achieve their potential. It is wonderful to see companies like Helio Display Materials flourishing in our Wood Centre for Innovation in Headington.
"Since 2021, we have converted nearly 10,000 sq ft (900 sq m) from office to lab space to meet the exceptional demand from businesses for lab space in the heart of Headington's life sciences' district.
"Congratulations to Helio for its continued expansion."
More
October 11th 2023
Five minutes with NavLive co-founders Dr David Wisth and Prof Maurice Fallon
University of Oxford spinout NavLive has recently joined the community of inspiring deep-tech start-ups at our Oxford Centre for Innovation. With its advanced 3D mapping technology, it aims to create new norms in the complex management of building sites, bringing economic benefits to the building and construction sector. We spoke to its co-founders, […]
September 27th 2023
Fusion technology company Oxford Sigma relocates HQ to Oxford Centre for Innovation
Oxford Sigma has returned to Oxford's city centre to accelerate fusion materials technology commercialisation to help tackle climate change and resolve energy security, with new global headquarters at our Oxford Centre for Innovation.
September 14th 2023
Oxford Sigma Annual Summer Internship Programme A Success For Next Generation Fusion Skills Development
This year saw Oxford Sigma's largest internship intake to date over the summer of 2023.