Oxford Sigma Annual Summer Internship Programme A Success For Next Generation Fusion Skills Development
September 14th 2023
This year saw Oxford Sigma's largest internship intake to date over the summer of 2023. For the second consecutive year Oxford Sigma hosted university students for 8-week placements in collaboration with the UK Atomic Energy Authority (UKAEA)'s Fusion Industry Programme (FIP), with undergraduate university students across backgrounds in physics, engineering and material science. The programme's expansion underscores Oxford Sigma's commitment to nurturing exceptional talent for the future growth of Oxford Sigma and the wider fusion industry.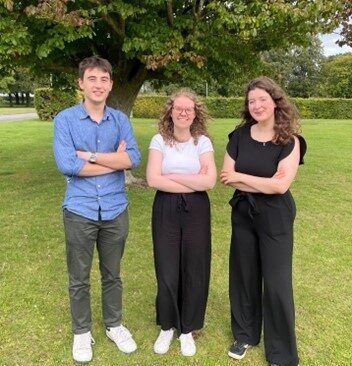 This year's interns were selected from a competitive pool of applicants based on the ability to creatively solve complex problems and strong interest in the commercialisation of fusion energy. Successful applicants for the 2023 Oxford Sigma internship programme were Abigail Harrison, Abigail Lander, and Ian Pebody. Abigail Harrison is in her second year at the University of Birmingham studying Physics. Abigail Lander is a second year Material Science undergraduate at the University of Oxford. Also at the University of Oxford is Ian Pebody, a second-year undergraduate in Engineering.
Throughout the intensive 8-week program, our talented cohort of interns immersed themselves in a range of crucial technical challenges, exploring the forefront of fusion energy research, including neutron transport modelling, liquid metal magnetohydrodynamic modelling, and the development of novel material research and development strategies for fusion blanket components.
Each student had the opportunity to take technical ownership of an aspect of the project, supported by Oxford Sigma's expert team of scientists and engineers, building upon the company's patented materials technologies.
Oxford Sigma interns are an integral part of the team during their time with the company. We value their fresh perspective. Beyond their technical projects, the students were immersed in a range of fusion energy topics through seminars in manufacturing, plasma physics and business strategy.
The students visited many of Oxford Sigma's local collaborators including First Light Fusion, Tokamak Energy, ISIS Neutron and Muon Source and UKAEA, and were involved in meetings with partners across the globe, including the US and Germany.
'I have really enjoyed my time at Oxford Sigma and have gained plenty of invaluable skills for the future including improving my coding ability (especially for neutronics applications) and a wider understanding of the fusion industry. I've loved being able to visit many other fusion companies such as First Light Fusion, Tokamak Energy and UKAEA JET with these visits helping me to understand the breadth of fusion today and the importance of looking into fusion for the future. Working for a startup company has also allowed me to understand the business aspect of a fusion company and how the company can extend its reach. My advice for future interns is to ask lots of questions; it's the only way you can make sure you fully understand something and to just give it a go because you are definitely more capable than you think.'
~ Abigail Harrison, Fusion Engineer Intern, Oxford Sigma
'I've really enjoyed my time at Oxford Sigma and have learnt an enormous amount over 8 weeks. I've contributed towards the MHD modelling workflow, and greatly expanded my skills at code development and data processing, and my knowledge of fluids and MHD. I'm very grateful to have had the opportunity to be involved in a friendly and exciting fusion start up, and to learn about its path into the future. Thank you to everyone at Oxford Sigma for a great summer and a fantastic experience!'
~ Ian Pebody, Fusion Engineer Intern, Oxford Sigma
'We are proud to have hosted an exceptional cohort of interns over the summer, and I personally had the pleasure of supervising Abby and Ian in Oxford Sigma's modelling team. Our interns not only excelled within their projects but provided a welcomed contribution to the office. Coming from a range of technical backgrounds, the students approached some of fusion's toughest challenges with a refreshing perspective and managed to far surpass my expectations.'
~ Dr Ross Allen, Fusion Engineer, Oxford Sigma
About Oxford Sigma
Oxford Sigma is a Fusion Technology company with a vision to tackle energy security and
climate change by accelerating the commercialisation of fusion energy. Our mission is to
deliver materials technology, materials solutions, and fusion design services. Oxford Sigma
aims to produce advanced materials technologies, agnostic to fusion approach, for the materials
ecosystem. Our fusion core materials are engineered to enable longer term operations for fusion
pilot plants, with the aim of roll out to the first-of-a-kind commercial power stations. Oxford
Sigma is internationally recognised as a key fusion materials and technological leader. The
company operates in the United States, United Kingdom, European Union, Canada, and Japan,
with offices in the UK and USA. Our roots and headquarters are in Oxford, UK.
More
October 11th 2023
Five minutes with NavLive co-founders Dr David Wisth and Prof Maurice Fallon
University of Oxford spinout NavLive has recently joined the community of inspiring deep-tech start-ups at our Oxford Centre for Innovation. With its advanced 3D mapping technology, it aims to create new norms in the complex management of building sites, bringing economic benefits to the building and construction sector. We spoke to its co-founders, […]
September 27th 2023
Fusion technology company Oxford Sigma relocates HQ to Oxford Centre for Innovation
Oxford Sigma has returned to Oxford's city centre to accelerate fusion materials technology commercialisation to help tackle climate change and resolve energy security, with new global headquarters at our Oxford Centre for Innovation.
July 24th 2023
Summer updates from companies in our innovation centres
With each season, we are pleased to celebrate the many successes and developments in the companies in our innovation centres. In this summer update, we celebrate fund raises, expansion and growth, recognition, and more. Here are some key highlights we've collected over the past few months. Funding Through UK Research […]